In restaurants, bad acoustics ruin a good time. At home, the culprit is always horrible lighting. Since natural light can only take us so far, we rely on the creativity of brands and studios that do more than make a recessed can or a builder-issued pendant light.
Thankfully we are currently in an era of cool, statement-making designs that make up for decades of underwhelming options. Even LEDs have started to shed their lackluster early versions, which means the entire category is a Renaissance. Two designers, Jonathan Browning and Carrie Livingston, prove the point with different but equally interesting new concepts.
San Francisco-based Browning has mastered the art of illumination with a collection of handcrafted, beguiling designs that have made him a favorite among interior designers and architects. A student of art history, he has shown his love for a range of styles and time periods from Beaux Arts Classicism to the turn-of-the-century archived Viennese designs, which he helped revive for Austrian brand Kalmar.
His latest creation, the Glacon table lamp is an entirely new take for Browning. The piece features a bulb that is captured (or frozen) between hand-carved lead crystal "that appears to smolder inside the thick encasing of block crystal," he says. "The idea was to capture this 'burning' filament in a block of ice. Heat surrounded by cold. Fire and ice."
It's a surprising move from a designer so revered for his wall-mounted pieces and chandeliers. Browning admits the design process of going from a fixture to a portable wasn't totally easy.
"It was more challenging," he says. "To create something truly fresh and new and relevant in this table category is daunting. I love this design because it feels cutting-edge and very forward without being trendy. Timeless but cool."
< Read More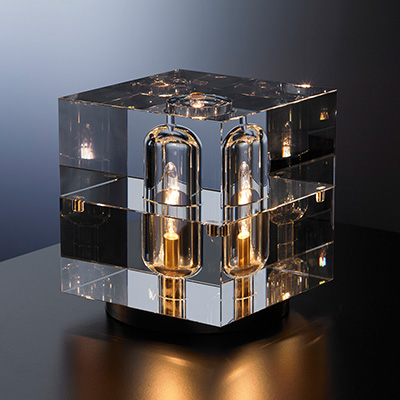 Pioneer event VENICE DESIGN is the largest International Design exhibition running alongside La Biennale di Venezia. From May 26th to November 25th 2018, the third consecutive edition of VENICE DESIGN will again be hosted by the European Cultural Centre. In the historical location of Palazzo Michiel, facing the Grand Canal, international Designers invade the venue to express themselves and to propose a singular reflexion on materializing, shaping and transforming our daily environment. Design will show its ongoing connection between body, object and space challenging the visitors to interact with pieces and immersive installations.
Jonathan Browning is pleased to display the Vichy Chandelier, Vichy sconces, Chausson Sconce, Glaçon Cube and Rectangular crystal table lamps. Around 50 international creators from 30 different countries and of various cultural backgrounds were invited to present their processes and visions towards Design. Constellations of creators will shine a light on the meaning of conceiving and producing our forthcoming living spheres through conscious designs, innovative objects and experiential installations. Through their social and ethical processes, some invited Designers are raising a collective awareness leading to significant statements. While a few reflect upon innovative approaches towards shaping and re-thinking materiality, others will offer physical experiences. Palazzo Michiel becomes a vibrating space where interdisciplinary Design inspires and stimulates curiosity. The body as a structural architecture and a performative element at the core of those initiatives will reconnect with its interactivity.
Invariably connected to its local roots, VENICE DESIGN will allow its visitors to wander around the city to discover 40 independent craftsmen living and working in Venice.
Featured in Luxe Magazine's May/June Issue
Love is patient. And it's a good way to describe the 17-year journey that lighting designer Jonathan Browning and his husband, Marco Heithaus, traveled to transform their Noe Valley home. The 1931 structure had become a down-at-the-heels bed and breakfast when the couple bought it in 1999: nearly two decades later. it has become a grand hilltop abode that combines Browning's reverence for Mediterranean Revival architecture with Heithaus' minimalist-modern instincts.
< Read More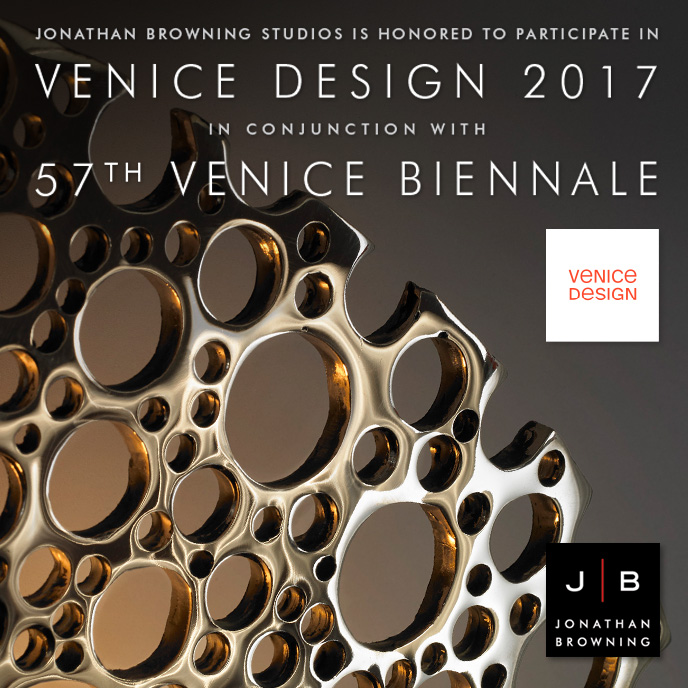 VENICE DESIGN 2017 is the largest design exhibition in conjunction with the Biennale di Venezia. During the Art Biennial, from May 13th to November 26th 2017, VENICE DESIGN intends to show a glimpse of the approaches of today's international designers and is a witness as well as a proof of the current design scene. For its second consecutive year, the exhibition will be hosted by the European Cultural Centre in the historical location of Palazzo Michiel, facing the Grand Canal in the very heart of Venice. Around 50 creators from 25 different countries and of various cultural backgrounds, ages and points in their career are invited to present their concepts and approaches towards design.
Among those 50 creators is Jonathan Browning, Principal and Creative Director of Jonathan Browning Studios. Founded in 2003, JBS is one of the industry's most respected and highly awarded firms for investment cast bronze lighting and specialty furniture pieces. Browning has been a prominent figure in the design industry for 25 years, culminating his career as Executive Vice President of Design for Starwood Hotels and Resorts Worldwide. He is responsible for numerous St. Regis, Luxury Collection, W, Westin, and Sheraton projects around the globe. He has also designed flagship stores for fashion brands on Rodeo Drive, Michigan Avenue, and Broadway, and is only one of two Americans invited to showcase his designs at VENICE DESIGN during the Venice Biennale.
In 2016, Browning and the Jonathan Browning Design Group launched an expansive licensed collection of modern lighting and hardware with Restoration Hardware, part of the new brand RH Modern. Browning's designs span 7 home decor categories with over 480 SKUs available online and through the company's retail locations around the United States.
In 2017, Browning announced his licensed lighting collection for McGuire, a first introduction of lighting for the McGuire brand. The same year, Browning spoke at Maison et Objet in Paris about Growing Global Brands through Licensing and Strategic Partnerships alongside Christian Lacroix CEO Nicolas Topiol and internationally acclaimed designer Timothy Corrigan.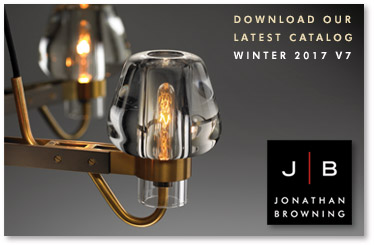 Jonathan Browning Studios is please to present the new Winter 2017 Digital Catalog. Five new lighting designs, and one new cocktail table. In particular, the Montalembert is now presented as a 3 and 6 light circular chandelier. Download it now in the Download Center, or the Catalog tab on the JBS website.
< Read More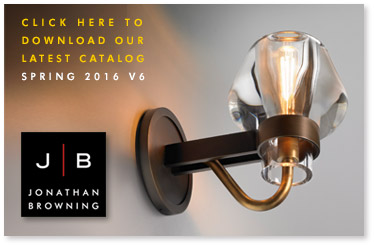 Check out our new Digital Catalog, which includes all the latest designs. Published March 31st, 2016. PDF format and fully indexed for easy navigation.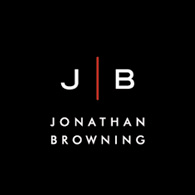 We are launching 16 new designs today, Thursday March 31st, 2016! Please take a look by going to Menu/ Products/ What's New on this website.
Jonathan Browning in the Artisan Series for RH Modern.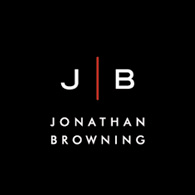 We are happy to announce 12 new designs for Fall, 2015. Please check out the -What's New" - on our website, and download our new 5.0 Digital PDF catalog.
Jonathan Browning officially announced the launch of the Jonathan Browning Design Group, which is dedicated to the art of product design for residential and commercial applications. The group focuses on pure, unique product design available for licensing to manufacturers around the globe. Product categories consist of home decor accessories, hardware, tabletop, rugs and furniture.
< Read More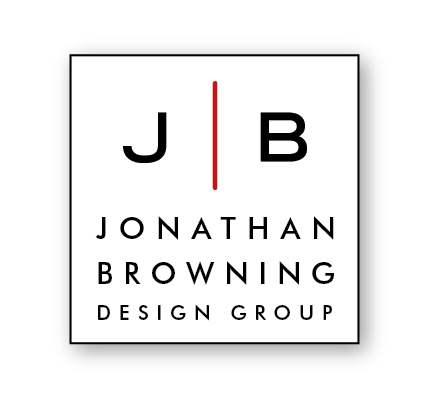 Dedicated to the art of product design for residential and commercial applications.
< Read More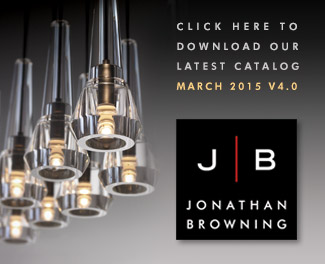 Jonathan Browning Studios is pleased to announce our new 2015 catalog Version 4.1. We have 21 new fixtures all shown here. Our Digital Catalog is a PDF downloadable file, with searchable index. This is perfect for the desktop, iPad, or Smartphone.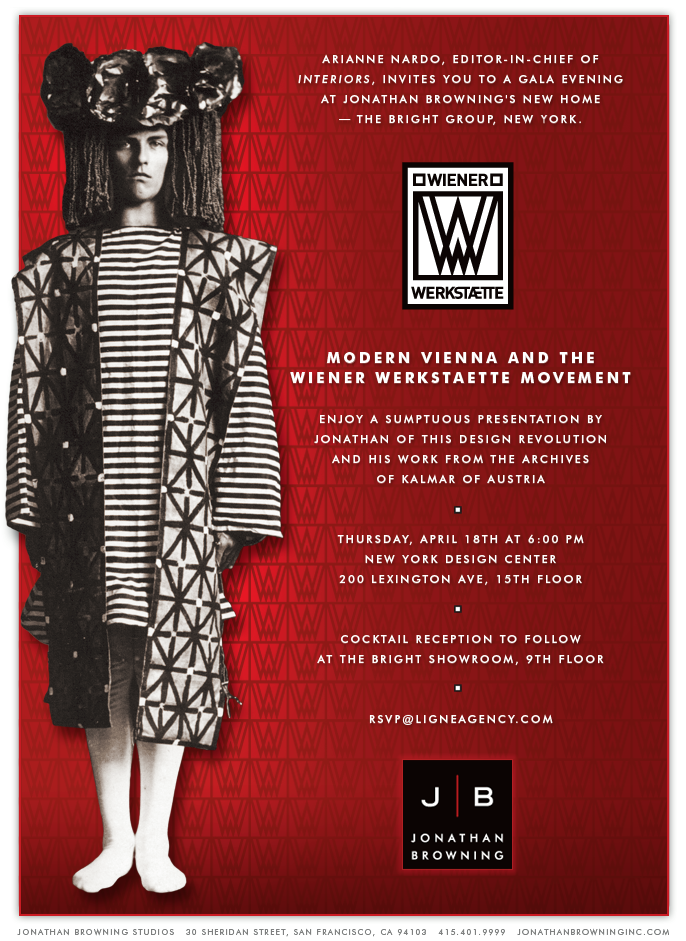 Arianne Nardo, Editor-in-Chief of Interiors, invites you to a gala evening at Jonathan Browning's new home- The Bright Group, New York. "Modern Vienna and the Wiener Werkstaette Movement" Enjoy a sumptuous presentation by Jonathan of this design revolution and his work from the archives of Kalmar of Austria. Thursday, April 18th at 6 pm New York Design Center 200 Lexington Ave., 15th Floor Cocktail reception to follow at the Bright Showroom, 9th Floor An Editor's Note from Interiors' Michael Wollaeger Michael Wollaeger writes about Jonathan Browning's presentation of the Wiener Werkstaetter Movement in Vienna at the DeSousa Hughes Showroom in San Francisco "I was due to introduce the brilliant lighting designer Jonathan Browning back at Desousa Hughes. Jonathan is collaborating with the Austrian company J.T. Kalmar, whose design library goes back to 1881 or so, and his talk was fascinating. He took the audience (which was packed into the showroom) through the Wiener Werkstatte movement in Vienna, which was one of the earliest manifestations of Modernism on the Continent in the early 20th Century. His photo research was expressive, and I felt as though I was back in one of my favorite art history classes in college. Then he presented some of his new pieces, surprising and extremely beautiful updates of Kalmar's historic designs. A great presentation!" Please RSVP to rsvp@ligneagency.com by April 10th

Jonathan Browning Studios is pleased to announce their move to The Bright Group, in New York City. Located at the New York Design Center, 200 Lexington Ave, JBS will now expand its collection in a beautifully designed showroom by Douglas Levine. Please visit us where we have expanded our installed collections by over 300%. The Bright Group 200 Lexington Ave, 9th Floor NY, NY 10016 tel. 212.726.9030
< Read More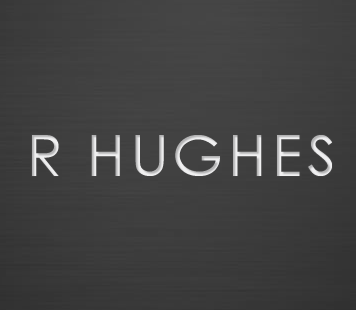 Jonathan Browning Studios is please to announce our new showroom in Atlanta, Georgia. This showroom invites designers and their clients to relax in a softly lit, urbane atmosphere as they imagine their home within.
< Read More

Jonathan Browning Studios is so happy to announce our first showroom in Canada, South Hill Home. South Hill Home is the best Showroom in Canada, providing expert knowledge and passion for interior design.
< Read More

"The first thing Jonathan told me when I met him for this interview was the story of his previous job at Starwood Hotels. As Head of Design in charge of developing six different brands for the St Regis, Sheraton and Westin among others, he felt that when trying to shop for an interior not all parts were equal. One could choose and pick from a vast selection of good furniture lines ("you could trip over them….there were so many"), carpets, wall coverings ( "brilliant people doing modern products") and other objects that could lend a patrician look to the hallways, lobbies and rooms of the hotels in his care. One thing was missing: good lighting..." To read more, please click on the link.
< Read More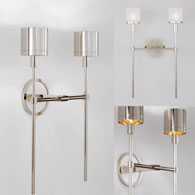 "Jonathan Browning, designer and master craftsman of the eponymous Jonathan Browning Studio in San Francisco is one of those gemstones in the design industry that intellectually backs his work with vast historical reference and a decades long journey honing his technical skills. When we recently spoke, Browning told me that his work is inspired in part by the Industrial Design and Decorative Arts of the 1920's, 30's and 40's in France."
< Read More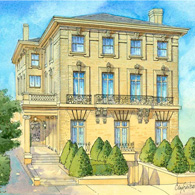 San Francisco Decorator Showcase is the West Coast preeminent design event. Dozens of the region top interior and landscape designers will transform 2020 Jackson Street (between Laguna and Octavia) into a premiere design show house. JONATHAN BROWNING STUDIOS will be showcasing its hardware and lighting, throughout all three rooms of the main floor. The Valognes curtain rods will be featured in the Living Room designed by Michael Booth and Steve Henry of BAMO. The classic Valois, Marias, and Vienne sconces will be main foyer designed by Dera Rosenfeld. A new custom chandelier, De Nacre (Mother of Pearl), will be debuted in the dinning room designed by Barabara Scavullo Interiors. The house was designed by Julius Krafft, 2020 Jackson was built in 1902 by Wells Fargo Bank President Isaias Hellman as a wedding gift for his daughter. However, it served instead as the temporary headquarters of Wells Fargo following the 1906 earthquake and fire. The 11,500 square foot Classical Revival home has four distinct levels with San Francisco Bay views from the formal dining room, large terrace and upper floors. The striking interior features of the mansion include sumptuous warm mahogany wood paneling, herringbone wood floors, box beamed ceilings and a double-curved grand staircase to the upper floors.